Artist's profile
Czechoslovak Chamber Duo performs on the following CD's from Diskant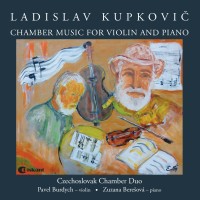 Biographical information
Czechoslovak Chamber Duo

was founded in 2004 by the Czech violinist

Pavel Burdych

and the Slovak pianist

Zuzana Berešová

in the city of Brno. Both musicians are constant guests of music-festivals in Germany, Austria, Czech Republic and Slovakia. The duo also performed in cities as Rome, Paris, Seoul, Lisbon, Bucharest, Sofia, Athens, Vienna, Belgrade, Budapest, Prague and Bratislava. Each year new projects to jubilees of famous composers are prepared.