Artist's profile
Eva Cáhová performs on the following CD's from Diskant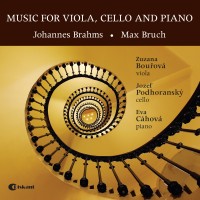 Biographical information
Eva Cáhová

has been playing the piano since the age of five. She studied at the Žilina Conservatoire under the leadership of Darina Švárna and consequently continued piano play study under the leadership of Zuzana Štiasna-Paulechová at the Academy of Arts in Banská Bystrica.
She has taken part in a number of piano competitions both at home and abroad. She is the prize holder of some piano competitions such as the Slovak Conservatories Students Competition, Slovak Republic (1st prize); International F. Schubert piano duo competition in Jeseník, Czech Republic (1st prize); International Competition Bohuslav Martinu in Prague, Czech Republic (honorable mention); The Anglo – Czecho – Slovak Trust festival in London, England (price for the best performance of F. Liszt and J. Cikker composition); International Smetana's Piano Competition, Czech Republic (3rd prize).
She also attended some piano courses: Brno (Prof. J. Skovajsa), Jihlava (Prof. J. Kvapil and Prof. K. Seibert) and in Dolný Kubín (Prof. Martina Kapatschinskaja).
Eva Cáhová passed concert presentations on home and international platforms too. As the piano player she made performances in London, Prague, Brno, Bratislava, Jihlava, Banská Bystrica, Oulu and in many other cities. She expanded her knowledge and skills with the study in (post gradual) study at the Academy of Performing Arts in Bratislava with Prof. Zuzana Niederdorfer.
At the present day she is acting at the Academy of Arts in Banská Bystrica. She is also active piano player performing concerts in Slovak republic and abroad. Parallel of solo piano play, she is also devoted to chamber piano play (piano duo member with Zuzana Niederdorfer, guitarist Adam Marec, accordionist Michal Červienka).