Artist's profile
Filip Jaro performs on the following CD's from Diskant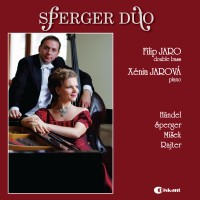 Biographical information
Filip Jaro

(1986) was born in Bratislava into a musical family. He was inspired to take up the double bass by his father and brother, who also play the instrument. He studied at the conservatory in Bratislava and the Academy of Arts in Banská Bystrica. He won the 2005 Competition for Slovak Conservatory Students and the 2007 International Double Bass Competition in Brno, where he also won the audience prize.

He took part in a masterclasses with Prof. Thomas Lom in Stuttgart in 2003. He participated in the fifth, sixth and seventh International Double Bass Conventions in Brno, where he worked under the leadership of such figures as M. Gajdoš, M. Jelinek, J. Hudec, H. Mayr, J. Niederhammer, W. Guttler and C. Rottaru.

As a soloist he has performed with the Bratislava Conservatory Symphonic Orchestra on the stage of the Slovak Philharmonic and the Collegium Baroque orchestra at the Divergencie and Hudba Trnave festivals. He has played in several international orchestras, acting as first double bass under the baton of prominent conductors: R. Mutti, X. Ricour, A. Podařil, M. Millard, N. Harnoncourt and O. Lenárd (Brno, Budapest, Bremen, Paris, Prague, Vienna, Salzburg, Frankfurt, Martinique, etc.) Since 2007 he has been a member of the Slovak National Theatre Opera Orchestra, from 2008 as deputy leader of the double basses.

His solo repertoire stretches from music of the baroque up to the 20th century. He organizes recitals and double bass concerts on an annual basis in a concert duo with his pianist wife Xénia Jarová, promoting the double bass as a solo instrument. As a chamber musician he also collaborates with the Mucha Quartet and Moyzes Quartet.

Filip Jaro plays the double bass Johann Stephanus Maldoner fecit Füssen 1778.

Filip Jaro and Xénia Jarová have performed as a chamber duo since 2011, with the idea of uncovering and together perfoming and reviving the work of forgotten double bass virtuosos and Slovak and other chamber repertoire. They devote particular attention to the tradition of national repertoire (Ľ. Rajter, T. Frešo, L. Kupkovič and E. Suchoň) and the performance of compositions by Czech double bass virtuosos of the 19th century (A. Míšek, G. Láska, J. Storch, F. Simandl and V. Kuchynka).

Together they have won the interpretation prize at the Young Artists Festival in Piešťany (2012); have played a recital broadcast live on Slovak Radio; and have performed in the Mirbach Palace Sunday Matinee, Albrechtina and Musical Evenings on Palisády concert cycles, at the Academic Concerts in Prešov and in many individual concerts in Bratislava and elsewhere in Slovakia. In September 2016 they performed in recital at BASS 2016 PRAGUE, the 5th European Biennial Double Bass Congress.

In honour of the notable double bassist and composer Johann Mathias Sperger, they have taken the name of the

Sperger Duo

.