Artist's profile
Karol Samuelčík performs on the following CD's from Diskant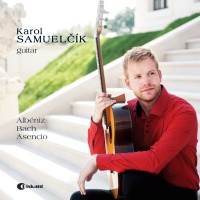 Biographical information
Karol Samuelčík

was born in 1991, Banská Bystrica (Slovakia). Between 2011 – 2016 was studying at the Academy of Performing Arts in Bratislava (VŠMU) with prof. Jozef Zsapka. He has graduated with the highest honour, Prize of the Rector. He enriched his musical progress during few months in Spain where he studied with famous Margarita Escarpa. At present is student of full-time postgraduate study at VŠMU in Bratislava. His pedagogue is worldwide known prof. Jozef Zsapka.

He had performed in the numerous cities in the whole Slovakia (Bratislava – International guitar festival J. K. Mertz, Sunday matinee, Nitra – Cithara Aediculae, Prešov – Prešov Music Spring, Banská Bystrica, Žilina ...) and abroad (Spain, Austria, Czech Republic, Italy, Hungary, Greece ...). As a soloist performed with orchestras as The Slovak Philharmonic, The Slovak State Philharmonic Košice, The Slovak Sinfonietta Žilina and Cappella Istropolitana.

He has attented a lot of International guitar festivals and masterclasses with such a great artists like L. Brouwer, S. Assad, P. Steidl, C. Domeniconi, M. Socias, R. Smits, M. Dylla, A. Pierri, C. Marchione, R. Dyens and the others. He gained 1. prize at the International guitar competition of J. K. Mertz 2012, Yamaha Music Foundation of Europe Scholarship program 2012 – 2013, International guitar competition of Ivan Balla in Dolný Kubín 2009, The Slovak Conservatories Students Competition 2009. In 2013 recieved prize for the best performance of an Italian piece in international competition Udine (Italy). In 2015 became one of laureates at Forum Gitarre Wien and in 2016 he gained 1. prize at the Thailand International Guitar Competition in Bangkok.

From 2013 he has joined to the organization team of J. K. Mertz festival in Bratislava.

He is great promise of guitar player for Slovak and international music.

Karol Samuelčík plays the guitar by Masaki Sakurai, model Maestro.