Artist's profile
Xénia Jarová performs on the following CD's from Diskant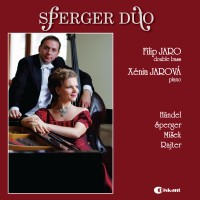 Biographical information
Xénia Jarová

(1986) was born in Prešov into a family with a tradition of playing and teachimg music. She studied the piano at both the conservatory and Acadamy of Performing Arts (VŠMU) in Bratislava under Ida Černecká and Magdaléna Bajuszová.

She is currently an internal doctoral student in the VŠMU Department of Keyboard Instruments, working on a dissertation on Robert Schumann and undertaking a cycle of Chamber Schumann concerts with the aim of performing Schumann's complete chamber piano works.

In solo and chamber repertoire she has appeared in concerts in Slovakia, Great Britain, the Czech Republic, Poland and Ukraine, and at the Humenné Spring Music Festival, Academic Concerts in Prešov, the Survey of Young Composers, and New Slovak Music. She is a member of Albrechtina, an association that aims to uncover and perform in concert unknown music from Slovakia and elsewhere.

She has formed a chamber duo with her husband, double bassist Filip Jaro, and as a chamber performer she has also collaborated with the mezzo Denisa Šlepkovská and the Mucha Quartet.

Filip Jaro and Xénia Jarová have performed as a chamber duo since 2011, with the idea of uncovering and together perfoming and reviving the work of forgotten double bass virtuosos and Slovak and other chamber repertoire. They devote particular attention to the tradition of national repertoire (Ľ. Rajter, T. Frešo, L. Kupkovič and E. Suchoň) and the performance of compositions by Czech double bass virtuosos of the 19th century (A. Míšek, G. Láska, J. Storch, F. Simandl and V. Kuchynka).

Together they have won the interpretation prize at the Young Artists Festival in Piešťany (2012); have played a recital broadcast live on Slovak Radio; and have performed in the Mirbach Palace Sunday Matinee, Albrechtina and Musical Evenings on Palisády concert cycles, at the Academic Concerts in Prešov and in many individual concerts in Bratislava and elsewhere in Slovakia. In September 2016 they performed in recital at BASS 2016 PRAGUE, the 5th European Biennial Double Bass Congress.

In honour of the notable double bassist and composer Johann Mathias Sperger, they have taken the name of the

Sperger Duo

.